Home
ChipCraft® is a Poland-based fabless semiconductor private company with development offices in Warsaw and Lublin. We are focused on providing custom world class System-on-Chip solutions for precise positioning and Telehealth/Telemedicine wearables markets.
Our partners
News

2017-11-22
ChipCraft team with Polish Ministry of National Defense award
ChipCraft team awarded in the Polish Ministry of National Defense contest on the best scientific work and implementation from the field of defense for our work towards dual-frequency multi-constellation GNSS receiver.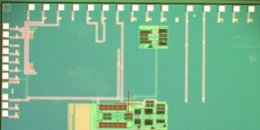 2017-06-08
ChipCraft is designing RV32IMAC processor
ChipCraft is designing a multi-core processor executing open-source RV32IMAC instruction set. More detailed informations regarding RISC-V architecture can be found here: https://riscv.org/.
1
2
3
4